---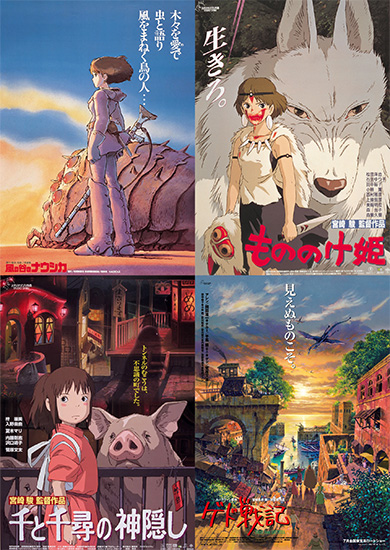 Weekend Actuals (06/27-28):
01 (---) ¥x98,085,500 ($913,000), 0, ¥145,529,790 ($1.4 million), Rambo: Last Blood (Gaga) NEW
02 (---) ¥x91,908,850 ($855,000), 0, ¥118,533,050 ($1.1 million), Spirited Away [2001 re-release] (Toho) NEW
03 (---) ¥x84,946,500 ($790,000), 0, ¥110,264,000 ($1.0 million), Princess Mononoke [1997 re-release] (Toho) NEW
04 (---) ¥x83,000,000 ($772,000)*, 0, ¥196,000,000 ($1.8 million), Nausicaa of the Valley of the Wind [1984 re-release] (Toho) NEW
05 (01) ¥x77,921,470 ($725,000),

-31%

, ¥325,694,400 ($3.0 million), Dolittle (Toho-Towa) WK2
06 (---) ¥x50,732,770 ($472,000), 0, ¥x62,942,620 ($0.6 million), Sonic the Hedgehog (Toho-Towa) NEW
07 (02) ¥x25,440,010 ($237,000),

-16%

, ¥206,943,340 ($1.9 million), Little Women (Sony) WK3
08 (03) ¥x21,353,860 ($199,000),

-24%

, ¥x97,610,660 ($0.9 million), Wednesday Disappears (Nikkatsu) WK2
09 (---) ¥x15,071,700 ($140,000), 0, ¥x19,328,850 ($0.2 million), Tales From Earthsea [2006 re-release] (Toho) NEW
10 (04) ¥x9,040,200 ($x84,000),

-59%

, ¥539,941,700 ($5.2 million), The Real Exorcist (Nikkatsu) WK7
11 (05) ¥x8,017,040 ($x75,000),

-53%

, ¥x48,050,200 ($0.4 million), The Current Wars - Director's Cut (Kadokawa) WK2
Okay, so first let me remind everyone that the Japanese market and domestic sites base their rankings in terms of weekend admissions, not revenue, and that the re-release of Spirited Away debuted in first place in admissions. Also, the re-release of Princess Mononoke came in second place in admissions, and the re-release of Nausicaa of the Valley of the Wind rounded out the Top 3 in admissions. All three films were re-released in 374 theaters, more than their initial theatrical release theater counts.

So, Hayao Miyazaki and Studio Ghibli managed to take the Top 3 positions, which, of course, made the headline of all the box-office related news articles this past week. But unfortunately, admission figures weren't released for any of them. But I'd estimate that Spirited Away sold around 80,000, while Princess Mononoke and Nausicaa were very close, each probably selling around 75,000. And in Nausicaa's case, it didn't have any of its weekend figures revealed (which explains the estimate*), just its cumulative total since it was re-released in limited locations a couple weeks ago (which is why its total is higher).

>Rambo: Last Blood debuted down in fourth place in admissions, but with a higher average ticket price, managed to take the #1 spot in revenue. And unfortunately, its admissions weren't released. But since it ranked in fourth in admissions, I'd estimate it sold between 70,000-75,000 over the weekend frame since it was very close to both Princess Mononoke and Nausicaa as well.

>Sonic the Hedgehog debuted in sixth-place,

selling 38,306 admissions over the weekend frame across 435 screens

, and 47,433 admissions in its first three-days in release. This is a pretty disappointing result, I have to admit, but perhaps it was destined to disappoint regardless of the current circumstances as Hollywood adaptations of domestic properties typically disappoint. But also, as mentioned above by neo_wolf and Jack Sparrow, the Sonic brand wasn't ever particularly big in the market either.

>And finally, we had the re-release of Tales From Earthsea, also from Studio Ghibli (directed by Goro Miyazaki) making the Top 10 to give the studio four Top 10 films this weekend. It performed noticeably worse than the more popular Hayao Miyazaki films, but I wouldn't say it wasn't worth re-releasing or anything.



This weekend, June 27th-28th, was the biggest at the Japanese Box-Office since March 07th-08th, nearly four-months ago

with the Top 10 earning ¥536 million ($5.2 million). So will we see more Studio Ghibli films receiving re-releases in the coming weeks/months? If this weekend is to go by, I'd say most definitely, at least among Hayao Miyazaki's catalog of films. A second "wave" of Studio Ghibli films could be released at the end July for sure.