Justified S4E13 rev.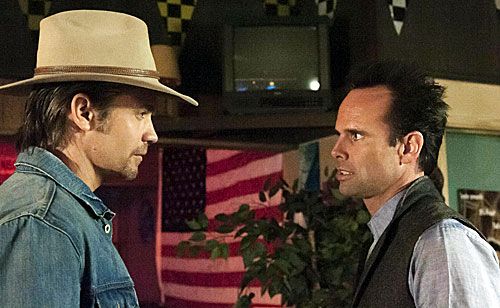 The season finale of Justified "Ghosts" makes a surprising choice. It leaves many of its best characters of the season out. Johnny, Ellen Mae and Drew don't appear. Largely, the point is made Justified is Raylan and Boyd's show. It always has been.

Ava's fate dominates the episode, but its meaning is played out through Boyd. Boyd's mistakes this season caught up to him. Two parties he'd made enemies of, the preacher's sister and the high rollers he'd tried to bully into a corner, struck back. Boyd did not build his empire on loyalty but false superiority and allusions of power which weren't made to last. As Raylan alluded to, Boyd wanted to become a drug lord for the same reason he falsely adopted religion or white supremacy. Because it filled a hole in him. But what could really fill that hole in Boyd after he'd searched so long, his relationship with Ava - he's now cost himself. Boyd gets the power he'd lusted after by the end of the episode, but it is now empty.

Raylan crossed a line in this episode by setting up and allowing the Nicky Augustin murder. Raylan may not have pulled the trigger execution style, but for all intents and purposes he did. Suspended at the time, Raylan's actions show what he is capable of giving into when not held back by his job and how the anger built up over the years threatens to take him over. Raylan needs the Marshall job to stay on the rails and give him direction, just as Boyd needed his multitude of adopted identities. I suspect the title of the episode "Ghosts" in part refers to how Raylan and Boyd are less than complete, especially by the end of this episode when Raylan has lost some of his moral code and Boyd has lost Ava.

Because of lacking Johnny, Ellen Mae, Drew or the departed Colt, "Ghosts" felt a bit less energetic compared to recent episodes. Not a big surprise considering the season has moved at a strangely relaxed pace, willing to set up and push forward its sprawling chess pieces at a waltz. Arguably it's the most character dominated and dialog-reliant season, with conversations taking over whole episodes. Season 4 is certainly a different cat compared the first three, or the rest of television as a result. Justified has never been more confident in its stylistic uniqueness. I expect this season is meant to be seen paired with the following one, but from start to finish it's a standout year for the show proving it is one of TV's treasures.
Grade:
Article Stats:
Score:
25
Views:
2175