Justified S4E11 rev.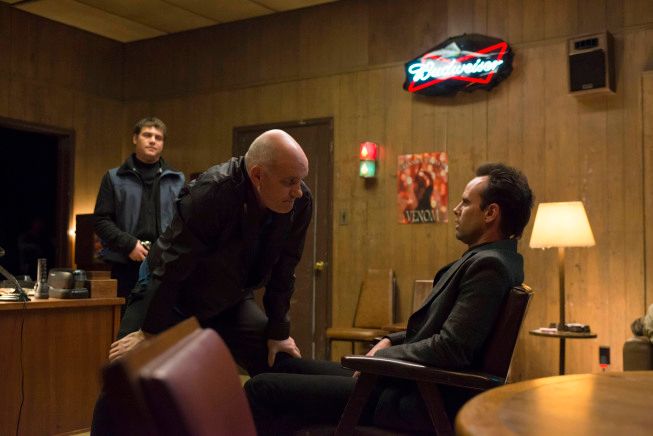 As the season nears its climax, "Decoy" is the most action-packed episode of the season so far as everyone found themselves on the edge.

With Theo Tonin's men descending on Harlan, Boyd, Raylan and company are in tight to avoid the wrap of Tonin losing Drew. The most memorable set piece of the episode is Colt and the Marshall's standoff and phone conversation. Coming back from near doom, seems to have given Colt his swag back and turned him into a sharp talking, badass MF'er. I hope he stays for further seasons as he's one of the season's most interesting.

Patton Oswalt as Bob has appeared periodically this season, with the payoff in this episode. Getting pounded on by "Yolo", looking like a darkest timeline version of Quinn from Dexter - Bob's knife under his soft uniform literally and figuratively gave him that victory.

As I suspected last week Johnny's true motivation for turning on Boyd is his feelings towards Ava. Johnny's turn on Boyd coming out of the wrong guy in Augustin sitting in the room, felt fitting - mistakes come to haunt one at unexpected times.

Raylan, Rachel and Drew in the school felt standard, though I did enjoy Raylan and Boyd meeting face to face when the latter arrived - as all scenes between them are great.

"Decoy" was a fine episode, though the relentless action felt somewhat calculated, while the real heart of "Justified" is its dramatic scenes and moments. That should come in upcoming weeks when Ellen Mae reappears and Johnny meets his fate.
Grade:
Article Stats:
Score:
25
Views:
1147