HK: September 27 Predictions
Rank
Movie
4-day prediction
7-day prediction
4-day %

chg

.
7-day %

chg

.
Total (after Oct. 3)
1
Ted
$650,000
$1,400,000

+216.7%

+466.7%

$1,700,000
2
Due West
$425,000
$690,000

-51.3%

-20.9%

$1,860,000
3
Upside Down
$350,000
$725,000
$725,000
4
Taken 2
$300,000
$700,000
$700,000
5
Looper
$280,000
$580,000
$580,000
6
Magic Mike
$270,000
$475,000

+5400.0%

+9500.0%

$480,000
Note: 7-day predictions span from Thu-Wed (September 27 - October 3)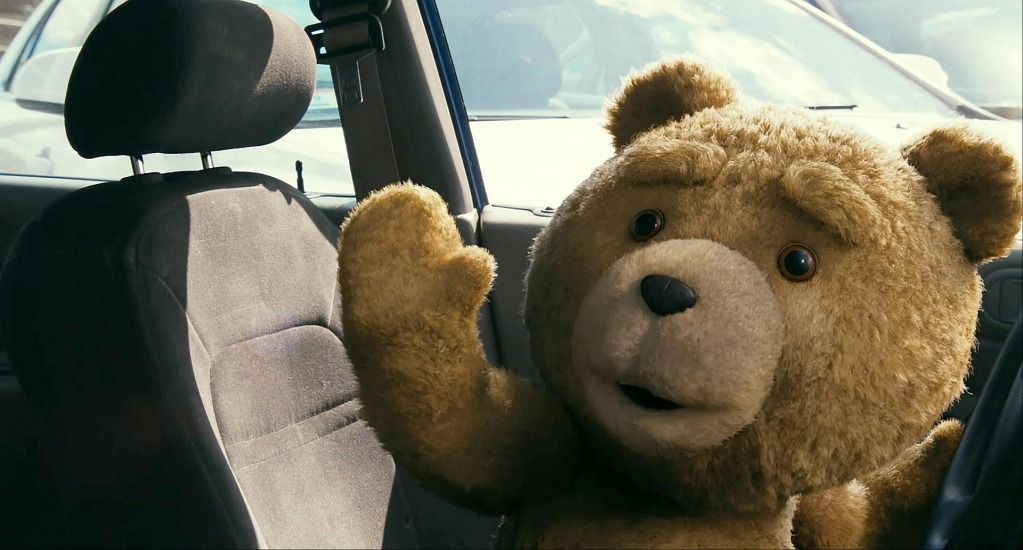 With a staggered release pattern this week, moviegoers will have a ton of movies to choose from this weekend. 4 releases begin their journey on Thursday, 1 on Friday and 2 more on Saturday, making this long weekend a big mess. The cause of this overload of films is due to the holidays on Monday and Tuesday, giving people 4 days to do whatever they want. This year won't be able to match last year's holiday weekend as there is no typhoon in the area or a holiday falling on the traditional 4-day weekend. Instead, we'll see deflated grosses with the 4-day weekend but massive increases on Monday, Tuesday and partially into Wednesday as well. Sunday will be the biggest day of the weekend as business should gradually increase throughout the weekend, similar to Chinese New Year this year. It'll be interesting to see how the Friday and Saturday releases affect the Thursday releases as well as holdovers.
Debuting well with its early launch last week, Ted will open to huge hype and the biggest theaters this week. Advanced showings for the whole weekend has started at a few locations and business has been very good. Reviews have been stellar with the film receiving thumbs up from 100% of moviegoers who saw the film last weekend. Also in its favour, Ted has the big-small effect going on (human-animal or human-small human interaction) like Gulliver's Travels had that appeals to audiences here and the small thing being an animated teddy bear will only serve to be a catalyst for couples to catch this in theaters. Males will want to see the buddy-buddy laugh out loud comedy while the females will want to see a cute teddy bear on the big screen. There has been no comedy movies since The Dictator in early June so people will be lining up to see this. The rave reviews will push those on the fence to make a trip to the theater giving Ted a great opportunity to become one of the biggest movies of the year. Broadway/AMC theater chains have been leading the charge, giving Ted 2 screens at most locations. Ted will easily pass The Hangover 2 from last year and is aiming for a total in the 3m range. Last weekend, it led all releases on Sunday with over 20,000 admissions and that figure did not include any morning screenings. Altogether, Ted grossed about $300,000 from last weekend's previews and if you add in the 1.4m ($650,000 4-day) from this week's 7-day prediction, it'll start with 1.7m.
Due West will be the only holdover in the top 5 with it suffering minor losses in screen count this weekend. It has moved from the biggest theaters into the 2nd or 3rd biggest theaters but business has remained strong. The Category III rating will allow it to escape with a decent hold but the holiday won't help its grosses as much as other films. If this film performs similar to Sex & Zen: Extreme Ecstasy, we will see a dramatic fall throughout the week. 2D showings have been gaining the upper hand on 3D showings so theaters are making the choice to cut 3D over 2D which will impact its grosses this weekend. Reviews have been mixed but that didn't stop Vulgaria from becoming the biggest Chinese language film of the year and holding well week after week. There's potential for it to hit 3m but it will rest on how well it drops this week. Daily admissions have seen a general decline so it will need to rely on mainland tourists to keep the 3m dream alive. The holidays means that it won't see much of an increase but solid business should see it snag #2 this week. It will bank about $425,000 for a 51% drop and $690,000 for the 7-day (-20.9%) and gross 1.86m in 11 days.
Upside Down is a science fiction romantic drama that stars Jim Sturgess and Kirsten Dunst as long lost childhood lovers. The premise is interesting and should captivate viewers into seeing it but weak reviews could see business disappear come the holidays. Theaters have put this into the 3rd or 4th biggest theaters and pre-sales have been OK. It's getting a very wide release so even if it performs weaker than expected, it should still end up in the top 3 just by having more theaters than most other films. It'll gross about $350,000 for the 4-day weekend leading into a $725,000 7-day week.
Taking advantage of the long weekend, Taken 2 will begin showing on Saturday. It is not clear as to how many theaters will start playing the film this weekend but if it's like the Ted launch last week, we could see a huge 2-day gross. Some theaters have already started advanced ticketing for the weekend and business has been very good with 50% capacity filled and 4 days to go. Taken 2 is another movie in a long line of films in recent months that have started its HK debut on Saturday. Other films like Ice Age: Continental Drift, Expendables 2, Lan Kwai Fong, Ted, Magic Mike all began showing on Saturday to gain traction heading into their official releases. Taken 2 will hope to use the long weekend to get some cash before its official release on October 4 and spread good word of mouth in the process. If Taken 2 does get a full scale launch like Expendables 2 did, upwards of $400,000 could happen. For now, the 2-day prediction above is assuming if it got a Ted-like early release while the 5-day is if it gets released ultra wide on Monday, Tuesday and Wednesday. $300,000 might be its 2-day starting point and a $700,000 5-day opening gross before its official release on October 4 means that it will have passed the first film before its official launch.
The newest offering from Rian Johnson, Looper, will flash into theaters but due to the amount of competition this week, Broadway/AMC have decided not to show this and have given Ted an extra screen instead. The loss of the biggest theater chain puts a huge dent into Looper's potential gross and it'll end up fighting for a place in the top 5 rather than the top spot. The sparkling reviews will help though and it could make a comeback on Monday/Tuesday if reviews here are as strong as they are stateside. It'll play in about 20-25 theaters but the poor marketing and loss of Broadway/AMC have killed any chance of getting a good gross from Hong Kong. Its last saving grace will be its reviews so it'll need to have exceptional word of mouth in order to salvage a respectable take. Pre-sales have been OK but this is a walk-in type of movie so admissions will shoot up on the day of the showing. It is showing almost everywhere else though so it'll be able to gross $280,000 for the 4-day weekend. If user reviews are just as great as critics, its 7-day week gross could shoot up to $580,000.
Magic Mike opened to tepid business last weekend and that doesn't bode well for its official release this week. Opening in select Broadway/AMC theaters last week, business was very poor as it only managed a $5,000 2-day preview total. It'll go very wide this week but its slow start last week has already begun to affect its box office this week. Put into the smallest theaters, the below average beginning last week has sunk its chances of a top 3 showing this week. It'll fight with Looper for the last spot in the top 5 and it might miss out due to its Category III rating, proximity to holidays, low advanced sales from last weekend and small theaters. It'll have to fight with two other Category III releases, Due West and Vulgaria, so it is heading into a crowded marketplace even though it's a Hollywood release and the other 2 are local releases. Gyrating into theaters, it could make $270,000 for the 4-day. The holidays won't help it much as sex/Category III films usually suffer on holidays as families will want to go out with their children to watch a movie. $475,000 could be its 7 day leadoff and adding the $5,000 from the special screenings, $480,000 could be its official take.
The Assassins is a mainland production and will begin showing on Friday. Although Putonghua films have gotten more popular in recent years, it's being released at a poor time in a very crowded market. It looks like this will get a release almost everywhere so it should make over $100,000 this weekend. It should start with about $125,000 for the 4-day weekend and then end up with $300,000 for the 7-day.
Finding Nemo will be re-released in 3D this weekend on Saturday. Advanced ticketing has just started and although pre-sales have been poor, it being the only kids film of the week will be great news. Re-releases generally don't do well and recent 3D re-releases of kids classics like The Lion King started off terribly. This should be able to do better than The Lion King with the holidays close by so a $25,000 2-day start sounds reasonable. Its 5-day could end up in the neighbourhood of about $65,000.
Holdovers will be sad to see this weekend come. Resident Evil: Retribution is getting the boot in a lot of theaters so a 70-75% drop is expected with huge theater losses to come on Thursday. We might even see a Resident Evil extinction come Saturday with Taken 2 and Finding Nemo opening. Retribution will pass Extinction sometime this week so when all is said and done, it will increase from the previous installment.
The Expendables 2 passed the original on Sunday but 2m seems out of the question. It is looking at a 50-55% fall.
The Bullet Vanishes has been mirroring The Expendables 2 in admissions the past week. It is also heading for a 50-55% drop.
Intouchables held well again last week and is already up to $565,000 through Sunday. The increased competition has had a noticeable effect on its showtimes as it is getting reduced at a couple of locations. Pre-sales have been surprisingly dead but holidays should see it perk back up. It might drop about 35% 4-day and increase +5% with the 7-day.
Article Stats:
Score:
25
Views:
1913