Hong Kong: 2011 Summer Recap
A little historical data before we begin, this summer ranks as the best ever since weekends started being reported. It finished with $53,011,749 for the 4 month period including the last weekend of April thanks in large part to 3D releases. This was up 11% from Summer 2010, up 25% from 2009 and up 27% from 2008. 3D releases accounted for more than 70% of the gross (nearly 80%) and it was the first time the box office hit 50m total for the summer (even without the last weekend of April). With that in mind, let's take a look back at the blockbusters, bombs and everything in between.
Superhero Class of 2011
vs.
vs.
vs.
Where else do we begin except at the very beginning. The last weekend of April kicked off the summer season with 2 fairly big openers, one of which we would be seeing fairly regularly with other movies throughout the summer. Thor opened to a better than expected 1.06m and opened the flood gates that will become known as the summer of superhero films. It still ranked behind Iron Man's 1.18m opening and attendance of course was not as high given the 3D prices. 2nd weekend saw it up against Fast Five, which is not traditionally known as a big franchise here. Thor was expected to win again but instead it came away with 2nd place and a huge drop (-62%). It went on to finish just shy of 2.5m and its total is considered to be just ok or slightly disappointing.
X-Men: First Class was next up and it opened to better results with a 1.18m start. It was just below Iron Man's OW by less than $200 but where it really did well was in its legs. It was the only one in the franchise to achieve a 2 multiplier (although The Last Stand was calculated as opening week back in 2006 before BOM switched over to the weekend format in 2008) as the others in the franchise did not double its OW in total gross.
Movie
Opening
Multiplier
Total
X-Men
$1,586,239

X2

: X-Men United
$1,820,023

X3

: The Last Stand
$1,600,827
1.70
$2,722,049
X-Men: Wolverine
$1,098,477
1.74
$1,911,652
X-Men: First Class
$1,180,064
2.82
$3,325,094
On the 2nd weekend, typically X-Men films drop 60% or above but this did the contrary and almost ended repeating on top with only a 53% drop. It declined even better in its 3rd or 4th weekends with drops of 44% and 32% respectively. It was a far cry from the performance of Wolverine which saw huge declines until the end of its theatrical release in just 5 weeks. First Class survived until week 7 when finally the Transformers/Harry Potter/Kung Fu Panda combo pushed it out of theaters. All in all, it was a fantastic result for First Class as it became the highest grossing movie in the franchise not just in Hong Kong but around many parts of Asia.
Following X-Men: First Class was Green Lantern. Out of all the 4 superhero movies of 2011, this was the weakest offering and it showed at the box office as this opened well below 1m with only $729,386. It was slightly better than The Incredible Hulk's opening of $655,000. Luckily, it stayed on top for a 2nd weekend with a 53% drop but what happened the next 3 weekends were extraordinary. Transformers 3 opening in its 3rd weekend caused it to plummet 92%, a rare feat for a 3D release. Even without a big movie coming out in its 4th weekend, it still posted an 83% drop. It saved the worst for last, however, when Harry Potter crushed it to smithereens and it celebrated its 5th weekend raking in a grand total of $41, a -99.2% drop from its 4th weekend. Green Lantern ended up making $1.468m, closing below The Incredible Hulk and not even making the 1.5m benchmark. In terms of US$, this would land under 100m, a very disappointing gross for a superhero country/city.
Captain America: The First Avenger opened August 4 and took home the prize for best opening weekend for a superhero film this year with 1.2m. It didn't hold up as well as expected and tumbled 61% with the official release of Cars 2 and Rise of the Planet of the Apes in its 2nd weekend. 3rd weekend, it collapsed -85% and that sealed its fate on 2.5m. In the end, Captain America just snuck past Thor and Mr. Popper's Penguins but couldn't make it past 2.5m, a benchmark that many thought it would have easily passed after its first weekend. WOM here was mixed -> good but it never had any traction displaying only terrible legs after opening weekend. Its box office was, like Thor's, a disappointment after the 1st weekend but ok overall. I would say it would be even more disappointing than Thor given that Captain America is a more well-known brand than Thor. It really shouldn't have struggled so much just to beat Thor by only $6,000.
In total, the 4 superhero films accounted for about 18% of the summer gross in Hong Kong making it one of the most profitable genres here. With 2012 coming out with the big guns in Spider-Man, Avengers and The Dark Knight Rises, this was a precursor to the frenzy that should take place next year.
Donnie Yen reinvents himself twice
After Donnie Yen told the media that he would not come back for a 3rd Ip Man, it was his chance to do something a little different. While sticking with the martial arts/kung fu genre, he churned out two movies that ended up almost with identical numbers at the box office.
The Lost Bladesman went up against Thor opening weekend but still came away with over $500,000.

It was the action star's first martial arts film of the year and the second since Ip Man 2. 2nd weekend saw it fall a whopping 72% and it could not stop the bleeding from there as 3rd and 4th weekends saw drops of 74% or more. It ended finishing just over 1m, a respectable total given the novels that it came from are not as appealing and widespread as Ip Man.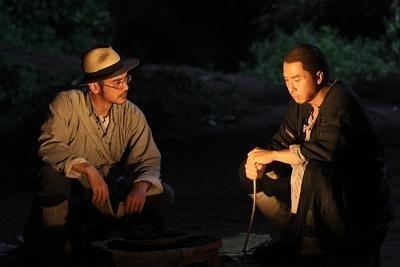 Wu Xia was Donnie Yen's 2nd offering of the summer when it opened here on July 28. This, like The Lost Bladesman, did not attract many moviegoers due to 3D releases. The Lost Bladesman had Thor, Sex & Zen: Extreme Ecstasy to contend with while Wu Xia got Transformers, Kung Fu Panda and Harry Potter. In the end, it still opened a hair under $500,000 which is still not bad considering how high profile the other movies were. With all the attention focused on the big movies opening weekend, this had a slightly better drop than The Lost Bladesman in its 2nd weekend but also crumbled by its 3rd weekend, shedding 84% from its 2nd weekend. Wu Xia crawled to $1.03m, $3,000 less than Bladesman. Overall, Donnie Yen had a fairly successful summer. With The Monkey King on deck in the summer of 2012, it will be another profitable year for "Universe's Strongest".
Coming up in part 2, we'll look at how the blockbusters fared in the summer of 2011 as well as Mainland and original releases.
Article Stats:
Score:
29
Views:
2220