TV vs. Theatre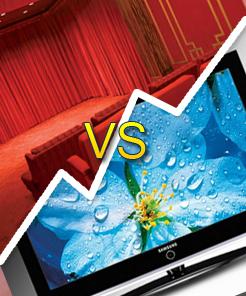 In the 1940s an argument over who controlled the moving image, Television or Theatre, would have been a ludicrous discussion, and not just because of the whole world war thing going on at the time. Before the explosive spread of television sets the theatre house
was
the moving image, it was the source of movies, serials, cartoons, commentary and news. It debuted new cultures, exotic locales and entire continents to the landlocked and sequestered masses. The theatre was synonymous with cutting-edge audiovisual technology, acting as a gateway to other places and other times where descriptions were no longer constrained by the limitations of speech, text or stills.
70 years later this is no longer the case. Gateways to other worlds now exist in every living room, every briefcase, even in every pocket. Theatres continuously sport spiffy new upgrades, but the vanguard of technological innovation now belongs to mass produced, mass consumed visual devices that are just as likely to get smaller as they are to grow bigger. Whereas before the argument seemed to be heavily lopsided in favor of the theatre, the trajectory of electronics seems to have overwhelmingly crowned television the undisputed champion of moving media. In terms of sheer numbers, no one can deny television's present-day supremacy over the theatre: a 2009 estimate pins the number of U.S. theatre screens at 39,233
, a paltry sum compared to the 285 million television sets owned by U.S. households as of 2006
.
There is a far larger pool of programming available on TV airways than there is for the cinema screen, so it's no real surprise that people spend a lot more time in front of the tube than in the theatre auditorium (the cost of television is also a lot cheaper per hour, which undoubtedly plays a factor as well). I can't even begin to fathom how you would go about quantifying the gross revenue stream for all television applications, but I'm sure it's bigger than the $10.6 billion the U.S. and Canadian box offices hauled in for the 2009 calendar year. Despite the huge disparities between these two media platforms, the conversation between which outlet trumps which is a lot more complex than the subject may first imply. As the decades wear on the dividing line between theatre and television is quickly eroding, creating new stress on both markets as they try to re-define their scope.
Tackling the impact of the Internet and its synergistic influences on both mediums is a topic that deserves its own stand-alone article, so for the sake of simplicity I'll try to keep that game-changer out of this discussion. Before we delve into the details I'd like to take a look at how television and movie theatres have progressed over the past Century, with the hope it'll shed some light on how they'll stack up against one another in the future.
American Snapshot, 1950s and Beyond
Although some of the earliest television sets were produced in 1939, only about 3.6 million were sold through the 1940s. It wasn't until the banner years of the '50s that television really started to catch on, with the highest initial demand for the new invention originating in New York, Pennsylvania, California and Illinois. Like the home or the automobile the television set immediately became an indicator of socioeconomic status and, fueled by an ambitious manufacturing schedule and a burgeoning list of programming, the television soon barrelled its way into more than 67 million U.S. homes by the end of that decade.
Throughout the '60s, '70s and '80s the cathode ray tube became more refined with the addition of color, remote controls, larger screens and smaller price tags. The 1990s saw the introduction of high-definition programming while the 2000s witnessed its rampant proliferation as HD and flat panel TVs became the media console norm. Plasma, LCD, LED and 1080p are now common household terms, a reflection of our combined love for TV sets and new consumer technology. 65% of US homes owned at least one television back in 1955, now the
average
number of sets per household is 2.24 and over 99% of homes have at least one TV. According to statistics compiled by A.C. Nielsen, the average American now watches over 4 hours of television per day, a number that's met with unimpressed acceptance or cringe-worthy disgust depending on who you're talking to. After all 4 hours a day does equate to 9 full years of TV watching over a 65-year lifespan, a figure that health officials and anti-television advocates are eager to point out.
Could television and its prevalence in American culture be partly responsible for our youth's declining academic literacy? Probably. Does the amount of time people spend watching TV directly correlate to poor diet and the nationwide obesity epidemic? Most likely. Is there any doubt that television is America's, or for that matter the world's, favorite media vehicle? Definitely not. But after television's initial rise to prominence the comparisons between TV and theatre started to lose traction as the general public began thinking of the two as distinctly different entities. Over the decades our society found plenty of room to support both television and theatre without much financial harm to either industry, yet recently that's once more beginning to change.
The Silver Screen
Before the development of electromagnetic theory the modern projector traced back its roots to optical illusion science and the early devices of Thaumatropes, Zoetropes and Praxinoscopes. It wasn't until the invention of sprocketed celluloid film and the merging of electric motors to camera and projector equipment that the first modern theatre was born at the hands of William K.L. Dickson and Thomas Edison in the early 1890s. Demoed at Edison Laboratories in 1891, this Kinetoscope and Kinetograph added a lot of momentum to the emerging industry and I can only imagine how nutso this must have been for the first theatre-goers; seeing recreations of everyday life, no matter how stilted they first were, must have melted faces off. The Kinetoscope projector device, however, was still too primitive to become commercially viable. In order to achieve that milestone Edison's manufacturing company bought the Vitascope, originally named the Phantascope by inventor C. Francis Jenkins a few years earlier, to screen a ballet sequence to the first paying American audience at New York City's Koster & Bial's Music Hall in April of 1896.
The first films, brief comedies and documentary-like "actualities," were played as sideline attractions at fairgrounds, carnivals and vaudeville shows. By the turn of the Century, however, films needed bigger auditoriums and bigger screens to accommodate larger consumer interest. The first permanent movie theatre in the world was built in Paris in 1897, with the American counterpart coming along 5 years later in the form of Thomas Talley's 200-seat Electric Theatre in downtown Los Angeles. Films created around this time were very primitive and usually ran no more than 12 minutes, the maximum length of time that could fit on an early film reel.
A lot has changed since those infantile years of cinema. French special effects wizard George Melies and American projectionist Edwin Porter founded the modern narrative film with their respective, groundbreaking works
Le Voyage Dans la Lune (1902)
and
The Great Train Robbery (1903)
. Sound and color were incorporated to enhance realism and further support the new narrative voice. Films went from one reel to multiple reels (reel-to-reel), with the projectionist needing to splice new reels on the fly during the show until the entire process became more automated with separate "platter" systems able to hold complete, pre-spliced multi-reel prints (the current industry norm). As the stories grew larger and more complex so too did auditoriums and cinema equipment.
At the turn of the 20th Century there were only a handful of permanent theatres in the U.S. The period between the '20s and '50s saw the construction of theatres in the hundreds. Now the U.S. theatre industry boasts roughly 6,000 hardtop cinemas as of 2009.
Home Box Office
Up until 1957 every theatre constructed in the world was a uniplex, or had only one screen to show product, which is kind of like selling televisions with only one channel...or a channel offering only one show on repeat. It wasn't until Canadian Nat Taylor converted his dual-screen uniplex into a theatre capable of showing two different films at the same time that the multiplex was born. Even so this gets to the crux of all the contentious differences between television and theatre: programming.
Shortly after the television hit mainstream status it took over one programming niche from the theatre circuit: the news. Because it could circumvent the process of printing film and avoid physical distribution the TV broadcast system was much better equipped to handle the job of screening rapid turnover programming. It also allowed the news cycle to differentiate into local and state-wide scopes instead of just national and global headlines and paved the way for a 24-hour news cycle. The emerging theatre chains didn't exactly fight over news casting prominence, after all news snippets found their way into the theatre as meager preview packs and even then only due to the importance of World Wars and the opportunity for the government to reinforce propaganda initiatives. Once television could offer the elusive wartime footage on a regular basis the theatres logically bowed out of the fast-moving news market.
Where the theatre has always made its money is in the feature presentations. Feature-length movies have become the new 20th Century novel, a story-telling convention that's as diverse as it is archetypal. Television may have pioneered and solidified the half hour serial in mainstream media, but nothing so far has come close to the earning potential of a first-run theatrical feature. Yet that may also be changing.
Hit TV shows now garner viewership in the tens of millions and TV viewers now have a tremendous pool of television programming to choose from, a pool which has skyrocketed compared to the amount of Hollywood feature product available in theatres. More so than just an increase in quantity, television has also seen a dramatic elevation in programming quality. While many could still make a very valid argument against this declaration, the truth is prime-time and premium television now rivals some of the best studio work done in Tinseltown.
HBO first introduced the idea of a premium television experience in 1972 when it's subscriber-based business model of broadcasting theatrically-released movies and original content took off amongst television aficionados. With mature, high production value shows HBO provided what every TV viewer wanted: theatre-quality content in the convenience of their own home. This practice of delivering higher production-value product started a chain reaction of emulation across all the broadcast companies, resulting in an overall rise in TV programming stature. Now it's hard to find a well-funded premium channel that
doesn't
offer original programming: HBO may have been the first, but now Showtime, Starz, ReelzChannel and even Netflix (woops, internet reference!) all deliver original work or plan to in the near future. Unfortunately the theatre industry never had a chance of matching a commensurate increase in the quality of their own product output to keep up with TV; their development pipeline is just too narrow compared to that of television. Outside of dramatic advances in visual effects and big-budget spectacle sequences, films simply grew into better-looking films whereas television became more like cinema with each new season.
Battle of the Screens
So where does television and theatre stand now? As I've mentioned before
I love going to the theatre and personally prefer big auditoriums over my own living room, but I feel like I'm in the minority with that sentiment. The ubiquitous nature of high quality TVs, the rising cost of theatre tickets and concessions, and the dramatically changing landscape of movie distribution is heavily favoring more and more trips to the couch than the box office.
An advantage theatres have are their earning potential, predicated on product release supremacy. But while the big theatre chains have a lock on first-run distribution, the time between first and second-run is getting shorter, and pay-per-view has already drastically reduced the time between feature release and rental.
Regal theatres are trying to expand their product offering to negate declining theatre attendance by showing non-cinematic fare. The theatre chain's digital infrastructure, which I touched upon briefly in a previous article
, allows the company to project concerts, plays, seminars and sporting events to targeted audiences, but the appetite for such media in a movie theatre setting hasn't been established. For now the battleground is still in feature film delivery and cost, comfort and ease of access are all obstacles theatre distributors will have to work against as the televised medium continues to move closer and closer to first-run distribution. Every man's home is his castle and, now more than ever, his theatre as well.
Buying 1080p flat panels is no longer a question of whether or not you can afford it, but rather a decision of how big to go. Can anyone blame the 60" LED owner for skipping the theatre entirely in favor of rentals? This again calls into question the idea of what "theatre-worthy" pics are; before they were the cream of the action-adventure crop, big spectacles that would lose too much in translation to the tube. With the staggering improvements in readily available, consumer TVs, however, the big screen is no longer so big by comparison. Audiences are getting too smart to be duped into a theatre visit for every seemingly good-looking blockbuster that comes along. Even those who appreciate Michael Bay's work can no longer be satiated with the same old fare, regardless of how pretty it's dressed up. This brings us to an important concept in film theory, one pioneered by author Wolfgang Schivelbusch in his publication
The Railway Journey: The Industrialization of Time and Space in the 19th Century
. Without going into too much detail Schivelbusch argued that the modernization of Europe by railroads changed the way we perceive our world. Adapting to the views of rapidly moving landscape on a train ride forced our psyche and perception to "toughen," creating what's been termed a "stimulus shield." As media and advertisements became more flashy, colorful, attention-grabbing and invasive the viewer has raised their sensory threshold to dull the impact of distracting stimuli. The side effect of this response is that it takes ever higher sensory input to elicit the shock and awe factor that action spectacles rely on for thrills.
This is where the theatre must draw the line to resist takeover by the hundreds of millions of TVs around the world. The modern moving image was first displayed via a theatre and that's where the movie magic must stay for theatres to remain relevant. Although electronics makers have already embraced 3D TVs, the theatre must stay one step ahead, challenging the technology and providing a audio-visual experience that tears through the desensitized masses and cuts through our callous stimulus shields. Future advancements in theatre projection and 3D technology will be needed to stay ahead of the TV tech curve, as mere increases in high-def resolution (such as new digital 4K recording and projection) will be quickly matched or exceeded by consumer systems. In the face of our dynamic distribution environment, the real question is whether or not the movie industry is capable of elevating the theatre viewing experience high enough to differentiate it from that offered by current television. With so much money at stake in the feature film box office game, I'm willing to bet they are.
Resources & References
Television History: The First 75 Years
High-Tech Productions: The History of Film, Television & Video
The Physics Factbook: Number of Televisions in the US
The Sourcebook for Teaching Science: Television & Health
Article Stats:
Score:
43
Views:
12870